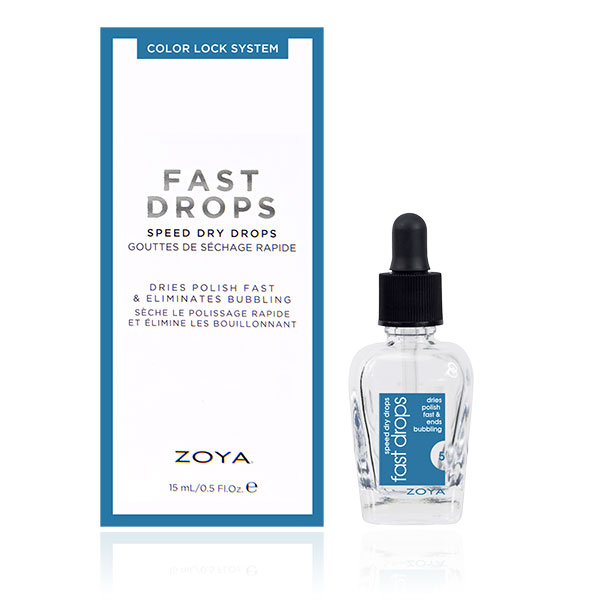 Size:
Zoya Fast Drops 0.5oz
Description
Zoya Fast Drops is a miraculous liquid that dries polish completely from top coat through base coat. Never smudge your manicures again!
Zoya Nail Treatment
What It Does
Impatience is a virtue. Manicures and pedicures are good to go with Zoya Fast Drops Speed Drops. These phenomenal bubble-preventing drops completely dry your topcoat,polish and base coat fast and enhance color vibrancy. Color stays fresh and gorgeous for up to two weeks.
Instructions
Apply one drop to base of each nail, tilt hand and allow product to spread naturally. Polish will dry in just five minutes. To extend your color up to two weeks, apply over Zoya Armor Topcoat every two days.
Shade Spotlight
Shade Spotlight Join our community - Tag your photos #EverydayZoya for a chance to be featured here!
View the Gallery
Ratings & Reviews
20

Review

s

Please sign in to write a Review



brendalee
Consumer Review
-Amazed
2019-12-06
I am so impatient and have always struggled with my manicures because I hate waiting for my nails to dry. I was amazed with these drops!! I will never be without them. I even used a non-Zoya brand base coat and polish. I did use a Zoya top coat though.
bsmarter
-St. Helena Island, SC and Madison, WI
Consumer Review
-excellent product
2016-02-13
This product is fantastic. Since I`ve been using it I have had no dents, dings, smudges and can do my nails late in the evening without waking up to "hair" patterns in the polish. Highly recommend. Expensive, but worth it.
Zoya Fast Drops Drying DropsWon`t do a mani without them!
2013-02-28
I got my first bottle of this in a combo kit last year and LOVE IT! I don`t get any of the issues other reviewers have left. Use them with any mix/match of polish brands. I do a strengthener, ridge filler, two coats of color, then a coat of armor topcoat and the drops. Can`t believe how fast they dry the polish, even an hour before bedtime. No sheet marks! Plus, my polish last MUCH longer with these than when I use a fast dry topcoat.
V
Location-Lake tahoe, california
Salon Review
Zoya Fast Drops Drying DropsProfessional
2013-02-28
As a professional, i am very pleased with the zoya product line. the drying drops work great and i have not experienced bubbling as one reviewer posted.
I am hooked and will buy much more now that i have had the chance to try them out.
Space Cadet Mommy
Location-Las Vegas
Consumer Review
Zoya Fast Drops Drying DropsMiracle Dry Drops!!
2013-01-07
These Fast Dry Drops are nothing short of a Miracle PRODUCT! That is ALL I need to say. Yet I will go on- I love to do crazy nails- yet I have NO TIME to wait for thick nails to DRY- as I am usually on the go. So instead of being a good girl, I put on thick layers and always had ruined nails :( I am learning to take more time for myself now- but when it comes to my nails- I don`t need a lot of time anymore! These drops are my go to product EVERY Time!
I also use them on my daughter who naturally gets very antsy when I do her nails! It seems like every time I paint her nails she gets a magically itchy nose :) Well Now I put these on her too and we both have perfect looking nails every time, no matter what we paint on them it dries and stays!
My only tip would be to put a paper towel under your hands to catch any excess oil residue that may drip from the drops. The product has a touch of a dry oil consistency.
angelpure
Location-IL
Salon Review
Zoya Fast Drops Drying Dropsms
2012-10-26
works great my customers love it I never had a problem!!!!!!!
MamaToby
Location-Lagos - Nigeria
Consumer Review
Zoya Fast Drops Drying Drops 0.5ozAmazing...to say the least
2012-09-04
I have always been skeptical about using nail polish because of the amount of time it takes to dry. After reading the reviews on this product, I decided to try the whole nail polishing thingy again. I followed the directions and applied this after a base coat layer, 2 layers of polish and topcoat. Like magic, my nail was dry in less than 5 minutes actually. I also tried this with the OPI nail polish and again, it worked ilke magic.
I would give it a 5 if I could...I highly recommend this product.
MichelleATX
Location-Austin, TX
Consumer Review
Zoya Fast Drops Drying Drops 0.5ozReally work!
2012-07-20
These are wonderful! I don`t know if they actually work in 5 minutes-I combined the drops with my UV nail dryer and they were done in 120 seconds (the dryer`s timer setting). Won`t do a manicure without these!
bella857
Location-NJ
Consumer Review
Zoya Fast Drops Drying DropsAmazing Product
2012-07-05
I recently discovered Zoya and fell in love. I always paint my nails before bedtime and decided to try these drops. After base coat, 2 coats of color, and top coat, I use these drops. Within 5-10 minutes I can go to bed without fear of sheet marks or scratches. Can`t say enough good things. Love this product!
Zoya Fast Drops Drying Dropsflawed bottle
2012-05-28
mine came without a dropper, rendering the entire bottle useless. I had to buy a different dropper that doesn`t and adapt, but really?? is there no quality control at zoya?? the drops themselves work ok, depending on the number of coats and type of polish used. There are better products out there.
neverbuyumbrellas
Consumer Review
Zoya Fast Drops Drying Drops 0.5ozFive minutes? Maybe five hours...
2012-03-21
I`m disappointed. With the recommended one coat of Anchor, two thinnish coats of Zoya color, and one coat of Armor, my polish is still easily dentable a few hours later with these drops. I`m not able to get on with my day worry-free for HOURS, which means I still really only get to paint my nails on my day off if I want a perfect mani.
cabogrl
Location-colorado
Consumer Review
Zoya Fast Drops Drying DropsBubbles....yes
2012-03-15
I`ve used this the last couple times I`ve done my mani and I get bubbles from this. Where there were none before I applied there are now. Very very noticeable, don`t think I`ll use them again...not cheap so I think it was a waste of money.
Kim
Location-Texas
Consumer Review
Zoya Fast Drops Drying DropsWay overpriced for the ingredients.
2012-03-15
This is made of dry silicone derived oils. This product is way over priced. It would be MUCH cheaper to buy a 16 oz. bottle of cyclomethicone or dymethicone from a handmade bath and beauty supplier. Better yet, use fractionated coconut oil.
Valerie
Location-Columbus, OH
Consumer Review
Zoya Fast Drops Drying Drops Great product
2011-10-25
So I wouldn`t say these drops are the most amazing product of Zoya`s I`ve tried, but they do work pretty well.. I used two coats of Zoya polish and a top coat and then used the fast drying drops. The drops probably cut my dry time down to about 30 minutes rather than hours it would have taken, but it definitely took longer than 5 minutes for my nails to dry.
Elsie
Location-Bloomington, IL
Consumer Review
Zoya Fast Drops Drying DropsDoes an Amazing job!
2011-05-31
I`ve used other products, and NOTHING compares to this. This stuff gave me "action ready" nails 5 minutes after I put on Armor.
Zoya Hurry Up Drying DropsThe Best on the market!!!
2010-12-10
These drops are a HUGE timesaver! I`ve used other brands & they DO NOT compare to Zoya. My nails are dry within 5 min of applying the drops! Thanks for an amazing product!!
Zoya Hurry Up Drying DropsAwesome!
2010-11-28
This stuff is great! I was skeptical, but it really works. Now my nails look beautiful, and I can use my hands normally with confidence within minutes instead of hours.
Kathleen
Location-PA
Consumer Review
Zoya Hurry Up Drying DropsAmazing!
2010-09-29
Does exactly what it says! I was able to touch my nails like 3 min after putting it on! Great Product, Highly recommend :)
Furbert
Location-USA
Consumer Review
Zoya Hurry Up Drying DropsWow
2010-07-10
I was skeptical, but really hoped they`d work, and they do!! Really well. I just banged a new manicure, hard, against a metal surface (accidentally) and no dent!
lulupt11
Location-Los Angeles, Ca
Consumer Review
Zoya Hurry Up Drying DropsFantastic!
2010-07-04
These drying drops are wonderful! They allow me to do my nails and continue on with my day! No more smudges or waiting around for my nails to dry!
Add a Review
Review Guidelines
We want to publish your review.

Please avoid inappropriate language, personal contact information, other brands, and external links.